Big Ideas History
Big Ideas@Berkeley History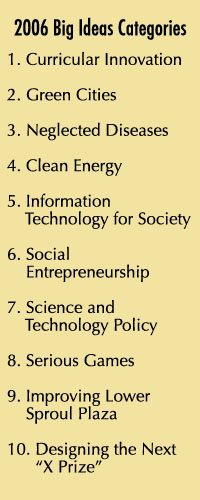 In 2005, the UC Berkeley Office of the Chancellor created a competition called Bears Breaking Boundaries to mobilize resources to support UC Berkeley students. Initially the competition was jointly funded by the Omidyar Network, an investment group created by eBay founder Pierre Omidyar; the Associated Students of the University of California (ASUC); and numerous institutes and research centers across campus. The competition was designed to encourage student-led research initiatives and to increase the role that students play in pioneering research, education, and service activities on campus. The competition involved multiple categories, as shown in the sidebar.
In its first five years, the structure of the Bears Breaking Boundaries competition was primarily a white paper contest: Student teams were invited to submit papers describing their big ideas without specific guidelines about what to include in their proposals. After a single round of judging, winners were selected within multiple categories to receive awards ranging from $1000 to $10,000 to be used as scholarships or to advance their project ideas.
In 2010, The Blum Center for Developing Economies at UC Berkeley began managing the Bears Breaking Boundaries competition and renamed it Big Ideas@Berkeley. The Blum Center is a multidisciplinary center that aims to join together world-class faculty, inspiring new curriculum, and innovative technologies, services, and business models to create real-world solutions for the poor. Given its focus on driving innovation and student experiential learning, the Blum Center continues to manage the Contest as a resource for UC Berkeley and several other eligible UC campuses.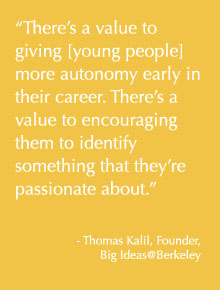 Notably, many other universities host innovation contests that are housed within business schools and overseen by business school faculty and staff. Big Ideas believes, however, that to succeed in an entrepreneurial endeavor, all students, regardless of discipline, benefit from approaching social challenges from a wide range of viewpoints. The Big Ideas@Berkeley Contest benefits from being housed at a center focused on global issues and from partnerships developed with business, engineering, social science, public health, economics, and other key departments. With this interdisciplinary approach, the Big Ideas@Berkeley Contest is uniquely positioned to offer to early-stage changemakers a wide range of perspectives and resources from multiple disciplines.
Early on, the Blum Center sought feedback on the Contest from Social Sector Solutions (S3), a fifteen-week strategy consultation provided by the Haas School of Business. Following an extensive review that included surveys of students and past winners, the S3 team made several recommendations for improvements:
• Make Big Ideas more accessible to students from all disciplines: Surveys indicated students from every discipline were equally interested in participating in student innovation competitions. However, the vast majority of students who actually entered these types of contests came from engineering and business school programs. The S3 team recommended that Big Ideas emphasize a multidisciplinary team approach and broaden category descriptions and outreach efforts to attract a diverse set of students.
• Make Big Ideas more accessible to undergraduate students: Although 80% of first and second year undergraduates indicated they would be interested in participating in an idea contest, only 30% had heard of Big Ideas. The S3 team concluded that Big Ideas needed to ramp-up its marketing efforts to increase awareness of the Contest, especially among lower level undergraduates.
• Provide an ecosystem of resources to assist and encourage students as they develop their ideas: Although 72% of students surveyed said they would be interested in participating in a business plan or idea contest, less than 10% had actually done so. The S3 team concluded that, by offering additional resources (e.g., mentorship, workshops, networking) Big Ideas would encourage broad student involvement, provide needed supports to all students who wished to enter the Contest, and level the playing field between undergraduate and graduate student applicants.
Incorporating feedback from S3, the Blum Center moved the Contest from a one-round white paper competition to a two-round, resource-rich contest that aims not only to fund, but also to support and encourage early-stage changemakers in solving pressing social, economic, and environmental challenges. Furthermore, Big Ideas developed uniform branding and style guides and increased its marketing and outreach in an effort to attract more students, especially undergraduates and students from underrepresented departments.
For more information about the history of Big Ideas@Berkeley and the importance of student-led innovation, see the following:
UC Berkeley NewsCenter, "$100,000 competition to fund UC Berkeley students' best ideas to change the world", March 1, 2006
Bloomberg Business Week, "Student Activism Can Change the World", By John Hagel and John Seely Brown, May 30, 2008
Science News, "Taken for Granted: A Big Idea about Fostering Innovation", October 3, 2008