Contest Resources
Contest Resources
The Contest is intentionally designed to maximally support students through the process of submitting a Big Ideas application and developing their big ideas. The goal is to provide students with the resources they need to get ideas out of their head and onto paper, then help students to develop the skills necessary to shape those ideas into actionable plans with the potential for real-world, sustainable social impact.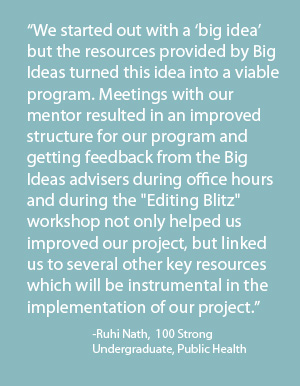 Big Ideas@Berkeley has thus developed a network of support services and opportunities for feedback to assist students at each phase of the Contest, each designed following a review of other campus innovation and business plan competitions and modified based on feedback from students who have participated in Big Ideas@Berkeley. It is important to note that by offering these resources to all applicants during the Pre-proposal stage of the Contest, Big Ideas ensures that even those teams that do not move on to the Full Proposal round benefit from participating in the Contest. Perhaps thanks to these resources, an increasing number of applicants not chosen as winners have chosen to revise and resubmit their proposals in subsequent Contest years.
Information Sessions
Information sessions are designed to be one part inspiration and one part information. These sessions typically feature a talk by a past Big Ideas winner who reflects on his or her experience during the Contest and the progress they have made. Past Big Ideas winners who have spoken at information sessions include Alejandro Valez and Nikhil Arora, Co-founders of Back to the Roots Ventures, and Laura Stachel, Co-founder and Medical Director of WE CARE Solar. These speakers serve as a draw for the event and set the stage by inspiring students to think about their own potential to impact society.
Following the inspirational talk, students are provided with information about Contest basics (e.g., the Contest timeline, Contest rules, examples of past winners). A Big Ideas mixer typically follows information sessions, where students are invited to mix with other students who are interested in participating (and perhaps find team members for their project—a formidable challenge for most student teams in the beginning phase of the Contest) and ask Big Ideas staff questions about the Contest.
Writing & Budgeting Workshops
During writing workshops, Big Ideas Graduate Student Advisors (see Program Management & Roles) present information on best practices for clearly and convincingly communicating ideas and crafting each of the application sections. These workshops provide information to students who have never submitted a proposal or grant application. Big Ideas advisors also provide writing workshop attendees with example past proposals and the option to either a) read and critique example proposals as a group, or b) workshop their own drafts or project ideas with the group.
Editing Blitzes
Editing blitzes were added to the network of support services during the 2012-13 Contest year in response to applicant feedback indicating that they would benefit from last-minute feedback on drafts of their proposals. During Editing Blitzes, held the day before each proposal deadline, teams are invited to drop-in with drafts of their proposals and specific questions for Big Ideas staff and past winners to review and answer. Editing Blitzes are the students last opportunity to get input from Big Ideas staff and advisors in order to make final tweaks to their proposal submissions.
Graduate Student Advising
Big Ideas Graduate Student Advisors are available year-round to assist students in writing proposals and developing their project ideas. Advisors are hired based on their expertise in content areas that align with Big Ideas categories. As such, Big Ideas Advisors can often provide expert consultation to students.
However, Big Ideas believes that non-expert, non-hierarchical consultation is perhaps a more effective resource for Contest applicants. As a primary goal of the Big Ideas Contest is to develop in students the ability to think critically about project ideas and their impact, Advisors often strive to model the process of critical inquiry (e.g., asking questions like, "How will you know if this component of your project works the way you'd like it to?" or "It sounds like you need more information before you can continue with your project design. Who can you talk to provide you with more information about this topic?"). As a result, Big Ideas advising hours are more often process-focused than product-focused, with the ultimate goal of ensuring that students come away from the advising session with an understanding of how to critique and think in a deep, iterative way about their project ideas. For more information on non-expert, process-focused advising, see the Tips section.
Networking & Team Building Opportunities
As the Big Ideas Contest has grown, there has been an increase in requests by applicants for networking and team building events. Students, especially those in the sciences, STEM disciplines, and professional schools, tend to interact only with students within their departments and have little opportunity to connect with students with different areas of expertise and skillsets. Big Ideas@Berkeley believes that it is beneficial to provide students with opportunities to meet, interact, and partner with others from outside their disciplines to encourage creative, interdisciplinary thinking.
Nearly all Big Ideas events (e.g., info sessions and workshops) conclude with a mixer that allows students to talk informally with one another about their projects, or ask questions of Big Ideas staff. During the 2012-13 Contest, Big Ideas@Berkeley also partnered with entrepreneurial centers and clubs from across the campus (e.g., Engineering, Business, Public Policy, Natural Resources) to hold the first Innovators@Cal event. The event featured a talk by Danae Ringelmann, Cofounder of Indiegogo, followed by a mixer. The Innovators@Cal event was publicized as an opportunity for students to communicate with others across disciplines and learn how to approach a problem from different viewpoints. Because it was jointly organized and broadly publicized, the event generated significant student interest from across the campus. Thanks to the event, interdisciplinary teams were formed and expanded. Because feedback on the event was overwhelmingly positive, additional Innovators@Cal events are now planned for the 2013-14 Big Ideas Contest cycle.
Judging Feedback
During both the Pre-proposal and Full Proposal judging rounds (see Judging for more information), judges are asked to provide both quantitative feedback (i.e., Likert scale rankings of the proposals' strength in particular areas) and qualitative feedback (i.e., feedback written to the team about areas of strength and areas for improvement in their proposals). At the end of each round, all applicants (finalists and non-finalists, winners and non-winners) are given the qualitative feedback so that they may use the judges' advice to strengthen their proposals and/or project ideas in the future. Students have overwhelmingly reported in surveys and during informal conversations with Big Ideas staff that providing judges' feedback proved helpful and informative to their team.
Tips
Strike a balance between process-focused and product-focused advising. Big Ideas@Berkeley is designed to help students develop both a) the skills they need to be successful innovators and b) innovative and impactful projects that address social needs. As a result, advising hours strike a balance between being process-focused (i.e., focused on developing skills related to the process of designing innovative projects, such as critical reflection skills) and product-focused (i.e., focused on developing a successful Big Ideas project).
In other words, Big Ideas advisors are trained not only to provide feedback on projects (e.g., direct, explicit, expert advise about adding or changing components of projects), but are also trained to ask questions of applicants that promote reflection (e.g., "How would you know if your project is successful?" "How do you know that the community will respond well to this project?" "What have you tried that has not worked?" "To whom could you turn if you run into difficulty in the implementation phase?" "How do other organizations find funders or support for their work?").
Finding a balance between these two approaches is often challenging for advisors, as applicants typically attend office hours looking for expert consultation. However, Big Ideas stresses to advisors that the long-term benefits of helping students develop critical thinking and project management skills far outweigh the benefits of short-term, project-specific advice.
Tools
• Pre-proposal Information Session Prezi
• Pre-proposal Writing Workshop Prezi
• Pre-proposal Example #1
• Full Proposal Information Session and Mentorship Kickoff Prezi
• Full Proposal Writing Workshop Prezi
• Full Proposal Example #1 and Full Proposal Example #2
• Full Proposal Information Session Handout
• Student Advising Request Form